Income and expenditure for 2016. The figures shown are based on the accounts presented approved in April 2017. Various headings have been changed and consolidated for clarity but the totals are the same.
INCOME
EXPENDITURE
Parish Giving/Stewardship
14,708
Parish Share
14,748
Collections
1,919
Salaries, Expenses, Fees
1,806
Weddings, Funerals
1,507
Electricity, Gas, Water
1,459
Collected for Good Causes
996
Given to Good Causes
1,159
Fund Raising, Donations
4,763
Insurance
1,377
Interest
1,811
Repairs, Maintenance
1,293
Sundries
977
Sundries
3,985
£26,681
£25,827
The figures above show that St Mary's needs a monthly income of just under £2,200 just to keep going
The greatest part of our expenditure is the Parish Share. This is paid to the Diocese contributing to the cost of clergy, activities such as training, social and youth projects, administration and to support the National Church.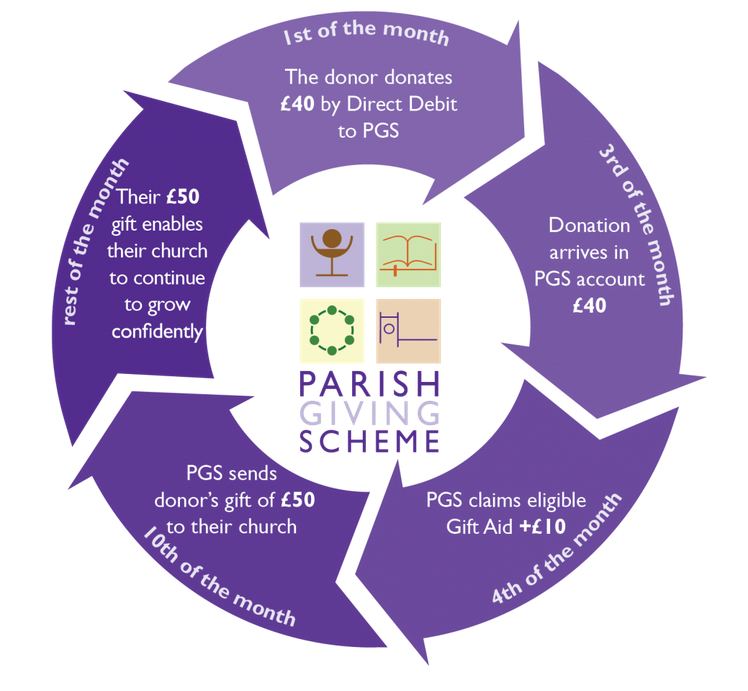 The largest part of our income comes from the Parish Giving Scheme.
Members of the church make regular monthly payments to St Mary's using a scheme administered by the Diocese. Payments are collected by Direct Debit on the 1st of each month, the gift plus any gift aid is then passed on to St Mary's by the 10th
Based on a gift of £40
St Mary's will receive £50
To join the scheme please contact David Hatton (see Contact Us) who can provide more details. Gift forms are on display in St Mary's Room.